When a visitor posts to your Facebook Page, it does not show up in the main feed the same way as your own postings do. Instead, it is hidden within your Facebook "posts page." Which means, visitors to your page cannot easily view posts on your Facebook page made by visitors. Unless people dig deep and really explore your Facebook site, it's unlikely they will see comments visitors post to your page.
And that, sadly, is a missed digital marketing (and boasting!) opportunity. Visitor posts are typically chock-full of glowing reviews, grin-worthy shout-outs, and honest reasons why you're the best at what you do. And that's good, because, people trust and respond to online reviews. However, it doesn't have to be that way – read our guide to learn how visitor posts can be easily added to your business Facebook page's main feed where everyone can view them.
Not satisfied with your Facebook Ads campaign?
Fill out this form and we will send you a FREE Facebook Ads audit straight to your inbox.
Fortunately, there is a way to put "visitor posts" on your main feed. With just a few savvy clicks, visitor posts can easily be added to your main feed where everyone can view them. Read just a bit further and we'll show you how. But first, let's explore why sharing visitor posts to your main feed is a good tool for your social media marketing strategy. Basically, sharing those positive comments from visitor posts can positively influence key digital marketing components, such as those listed in our infographic below.
Additionally, sharing positive visitor posts to your main Facebook page keeps your feed fresh with good content, increases brand awareness, and furthers your opportunity to grow your business. All good things when executing a successful social media campaign.
Understand now the importance of visitor posts to your business? And, why you should learn how to share them? To summarize, visitor posts are undeniable proof your audience engages with you and, therefore, should be a vital component of your strategic marketing plan.
Ok, so we've got the "why you should share visitor posts to your main feed" covered. Now, let's discuss how to do it. Use our following steps to learn how you can easily "share" a visitor's post to your page.
6 Easy Steps To Share A Facebook Visitor Post
Step-1
To begin, go to your business Facebook homepage. From your page's Home page, select the 'Posts' tab in the left hand column.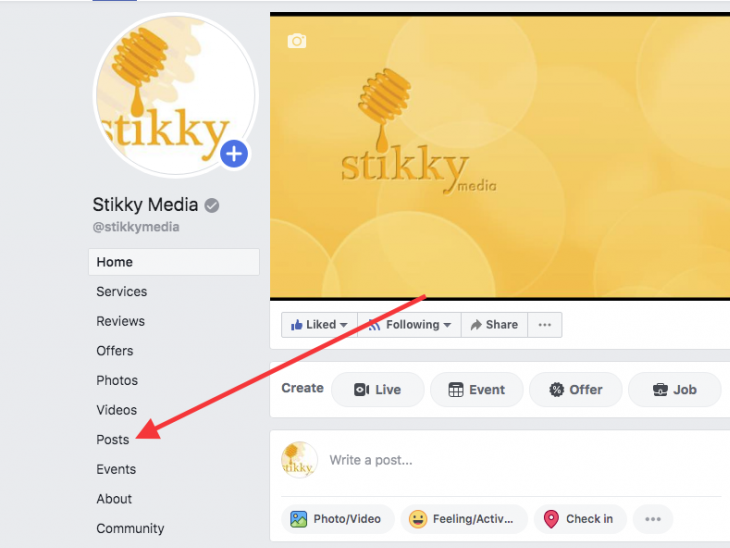 Step-2
Navigate to the "Visitor Posts" section on your page, in the right hand column.
Step-3
Get to the actual post itself by clicking on the hyperlinked Date/Time section of the post. This will take you to the actual post itself.
Step-4
Click on the Share link. This opens up the sharing drop down menu.
Step-5
Select 'Share to a Page' from the dropdown.
Step-6
Write a message to accompany the post. This will be a public 'shout out', so be sure to speak on behalf of your page in your brand's voice.
Complete these steps and the visitor post will be on your feed as a new and separate post! Don't forget that you're sharing someone's post publicly. Though not always necessary, it might be appropriate to reach out directly and ask their permission (depending on the post).
---
Is Facebook an important part of your inbound lead generation efforts? Check out this article from our friends at Customers.ai about the top 4 ways to get email addresses from Facebook.
---
Want to learn more about the benefits of an effective social media marketing campaign? Get more tips, tricks and advice on our social media blog posts.
Stikky Media is a digital marketing agency that serves midsize and enterprise clients who want their business to thrive on the Web. Our strategies give our clients the tools necessary to dominate their competition. Our SEO and digital marketing experts have generated strong ROI across a variety of industries.