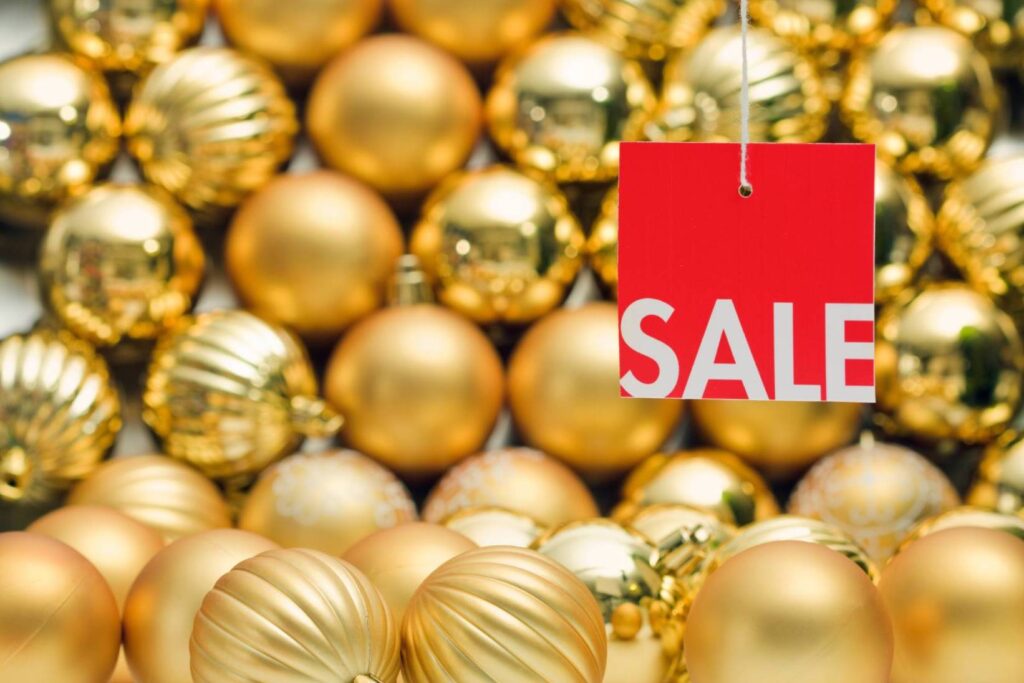 The holiday season is the most important time of year for your retail business whether online or in store. Customers are happy and replete with the holiday spirit, they are eager to shop and feel some urgency to buy. Despite inflation and the dubious economy, retail sales are expected to continue their trend upwards in 2023, albeit more slowly than in recent years, because many shoppers are financially stressed, and are looking for discounts.
High inflation and shopper caution will only add to the high competition for the customer's dollar during the 2023 holiday season. To achieve the best results, it is imperative to start planning your holiday season marketing early, with a good knowledge of recent trends to guide your strategy. In this article, we'll outline a few of the most important trends that have emerged over the past couple of years, and then offer our top holiday season marketing tips to take advantage of them.
Retail Holiday Season Trends For 2023
Lock-downs, business bankruptcy, supply chain issues and now high inflation have all made for a difficult and uncertain retail landscape over the past few years. However, even as the situation changes, some of the responses to the past conditions are sticking around. The first major trend for 2023 is a continuation of the past few years; on-line shopping, with its various permutations, continues to pick up steam. Inflation is the new challenge, forcing a new trend of cautious customers that are more conservative in how they spend their dollars in 2023.
Shoppers Are Looking For Deals in 2023
Because of the current high cost of living, and the resulting tight budgets, shoppers are looking for ways to save money. According to a Numberator survey, two-thirds of shoppers say they'll buy holiday items on sale, and half will buy fewer items overall. Food purchases will make up an important part of holiday spending — about half of all Christmas spending. This means that retailers that aren't selling food, will need to be extra attentive to their customers' needs and work extra hard to incentivize shoppers to buy from them.
On-Line Shopping Will Continue to Increase in 2023
Lock-downs saw a dramatic rise in on-line shopping along with home delivery, and that trend will continue in the 2023 holiday season.
Despite the difficult economic times, The National Retail Federation (NRF) expects 2023 retail sales in general to increase between 4 and 6% in the United States, possibly reaching as high as $5.23 trillion USD. Online sales are continuing to increase their share of the market, and are expected to rise 10% to 12% in 2023 with total sales between $1.41 trillion and $1.43 trillion USD.
M-Commerce is on the Rise
E-commerce using a mobile device, called M-Commerce, is increasing and expected to comprise about 43.3% of all e-commerce sales in 2023. This trend is being led by millennials, with Gen Z coming in a close second. Mobile User Experience with a quick load speed will be important to win the favour of the younger crowd.
Big Shopping Days For On-Line Shopping
The holiday season's cyber week, with its tradition of great deals, will likely continue to contribute heavily to the year's total retail sales. Cyber week officially kicks off with the American Thanksgiving and continues with the following shopping events until Christmas:
American Thanksgiving — November 23
Black Friday — November 24
Small Business Saturday — November 25
Cyber Monday — November 27
Christmas Eve and Day — December 25
In 2022 Cyber Week accounted for 16.7% of the entire year's revenue. Cyber Monday had the highest e-commerce conversion rate. The desktop conversion rate was 7%, while mobile was 3.6%. Black Friday came in a close second, with a desktop conversion rate of 5.6% and mobile at 3.3%.
Marketing Strategies For The 2023 Holiday Season
With these trends in mind, you can plan your holiday season marketing to reach potential customers and meet their needs so they will spend their limited budgets buying your products instead of somebody else's. All the usual good holiday season marketing practices still apply:
Define your business objectives and KPIs for your seasonal campaigns
Define your target audience and tailor your messaging to that audience
Develop a cohesive theme and messaging for the season
Pick your channels and events to suit your audience and business goals
As well as these basic foundational practices, you'll need to fine-tune your campaigns by addressing the trends and limitations of 2023. Here's a couple of areas to focus on to get you started:
Use Multiple Channels to Reach Potential Customers
The current digital landscape is broad and diverse; people are generally active on a number of channels, but also specific demographics and audiences have their preferred channels. Younger people tend to like Instagram and Tictoc, whereas older people tend to stick to FaceBook, for example. During the 2022 holiday season, 40% of shoppers accessed a brand's website directly, 25% came through search, and 10% through social media.
Using multiple channels gives you the opportunity to reach a diverse array of customers because you are meeting them where they are online. It is as simple as that. It also allows you to reach customers throughout the sales funnel, from learning about your brand right through to buying your product. Seeing your message across a number of channels helps to keep your brand top of mind.
When you are developing your holiday season marketing strategy, consider where your target audience spends their time, and definitely include those channels in your strategy. You might also look at emerging channels to broaden your reach. Short video channels are very popular and audio ads are also extremely effective, for example.
The key to multi-channel marketing is to promote a cohesive brand story across the channels — including off-line, by the way.
Use Multiple Marketing Tactics to Reach Potential Customers
As well as using multiple channels, incorporate multiple marketing tactics as well — and don't forget the tried and true methods such as good old search engine optimization (SEO) and newsletters. During 2022 Cyber week, Paid Search accounted for 28% of sales, Affiliates/Partners 18% and Email, 17% . Using AI-powered campaigns such as Pmax will help make your marketing efforts across Google (Search, Shopping, YouTube, Display, Maps) more effective and efficient.
Make the Shopping Experience Easy and Stress-free
Meeting your customers' needs is always true, but this year, it is even more true, if that's possible. This year's customers are stressed and they are strapped for cash. Counter their stress with excellent service. Make the whole experience of buying your products a pleasurable one: have a fast-loading site that is pleasurable to use and easy to navigate, offer free shipping, fast delivery and free and extended return policies. Check out the Google Shopping Ads features you can incorporate to make the purchasing process as trouble-free and smooth as possible — features such as the check-out feature which will take the customer directly from the product listing to your check-out page.
Offer Great Deals and Make Sure Your Customers Know About Them
As well as stress-free service, customers are looking for great deals this holiday season. A 2023 Google Consumer Insights report found that:
73% of consumers are more conscious of their shopping decisions because of rising prices
70% of US shoppers, especially millennials and Gen X, say that price drop notifications are important when it comes to shopping.
66% of US shoppers say that points/rewards systems are important when it comes to shopping.
On average, 31% of shoppers faced with rising prices are being more deliberate in what they spend their money on and are making fewer impulse purchases
48% of consumers say they are buying from new brands offering better deals/prices more often.
As well as offering great deals, it is important to make sure potential customers know about them. Promote them in newsletters. Make sure your digital advertising highlights the deals. Add promotions, local promotions and sale prices to your search ads. Use Shopping Ads special features, such as sale price annotations and coupon codes, to increase click through.
To Sum Up
To be successful in your 2023 holiday season marketing, start planning your strategies early (now), and, as well as incorporating basic marketing good practices, pay special attention to the unique circumstances of this year.
On-line shopping continues to be important, especially shopping on mobile devices for the younger crowd. Make sure your site loads quickly and is well optimized for mobile devices.
Reach your customers across a number of channels, using a number of marketing tactics, with cohesive messaging and creatives.
Aim to give your customers the gift of a completely stress-free experience by offering exceptional service and great deals.
Holiday season planning starts now for business and marketers. Happy planning everyone!