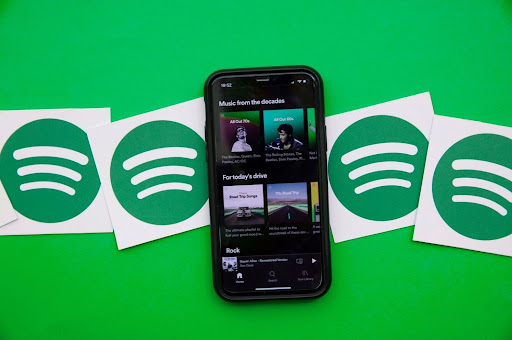 "Radio comes to us ostensibly with person to person directness that is private and intimate, while in more urgent fact, it is really a subliminal echo chamber of magic power to touch remote and forgotten chords."

— Marshall McLuhan, Understanding Media (1964)
Marshall McLuhan, a prominent Canadian media expert, wrote that insightful comment in 1964. Fast forward to today and radio has mostly given way to Internet music streaming and podcasts, but the power of audio to touch and convince is still the same. Arguably, audio today is even more intimate, since many people listen to music and podcasts wearing earphones, eliminating any extraneous noises and allowing the sound to more freely mingle with the person's inner thoughts. Audio streaming with headphones is a captivating, immersive experience.
But how does the intrinsic power of audio impact advertising? According to Spotify, "audio ads are memorable and motivational—they drove 24% higher recall than display ads, and were twice as likely to lift purchase intent." That's pretty powerful. And it is even more powerful when you consider the size of the Spotify market.
Spotify is one of the biggest players in the music streaming / podcast industry world-wide, with 31% of the music streaming industry market share. Apple is a distant second at 15%, followed by Amazon (13%), Tencent (13%) and YouTube Music (8%).
The power of audio along with the sheer size of Spotify, are in themselves convincing reasons you might want to advertise on Spotify. Let's dig into this a bit deeper.
Huge, captive and engaged audience
Spotify uses a freemium model, with both a free and paid subscription option. The free version plays ads between songs, so this is the audience we are concerned with. Over half of all users opt for the free version. Take a look at the 2022 numbers :
422 million total users
183 markets across the globe.
240 million users opt for the free version.
Not only is the Spotify audience huge, users spend an important number of hours on Spotify each day. People often listen to music while doing something else, substantially increasing the amount of time they can spend on the program. And because the ads are interspersed with music the customers enjoy, they are already focused and engaged.
44% of Spotify users listen to Spotify daily
Spotify users spend 2+ hours a day listening to music/podcasts on average
There are 70 million songs and 2.9 million podcasts available on Spotify
Each hour of content contains 1 to 4 minutes of ads
Each ad is up to 30 seconds long.
According to these statistics, Spotify listeners could have substantial exposure to your brand messaging. This is great for brand awareness and potentially for conversions as well. Of course, just broadcasting your message will-nilly without a focus is not the best use of a marketing budget. That's where Spotify's data on listeners comes in, enabling precise targeting with some metrics not seen elsewhere.
Targeting and a range of advertising formats on Spotify
Part of Spotify's business success is its ability to curate playlists based on a user's previous listening preferences. Spotify's algorhythms leverage user data to serve up playlists uniquely suited to that user. That in itself adds to the user's engagement level mentioned above, and as well, all that unique user data offers the advertiser fantastic opportunities to reach new markets. Every time a user listens to a song, or creates a playlist they are telling Spotify something about their emotions, their location and what they are doing.
Advertisers can use this data to reach Spotify users during specific moods or activities based on the music they are listening to. For example, a running shoe brand might advertise during one of Spotify's running and exercise playlists, thereby amplifying their ad with the energy and power of the playlist music as well as increasing the ad's relevance, since the user is hearing it while they are engaged in the very activity the ad is speaking to.
The huge diversity of types of music and podcasts on Spotify ensures that there is something for everyone — in other words, there are multiple, huge audiences within the total Spotify audience. Spotify allows you to target audiences according to:
Demographics
Location
Device
Music genres, playlists, podcast
Lookalike audiences
Retargeting based on past interactions with your brand
To further narrow how to reach your targeted audience, Spotify offers a variety of ad formats including:
Audio ads: these are played between songs
Video ads: these are played only when the user is browsing through the catalog, which means the user will definitely see the ad
Podcast ads: audio ads that are incorporated into your targeted podcast
Working with the Spotify experts, you can also create Custom Experiences following these formats:
Overlay: clickable display ads that appear when a user returns to the Spotify app
Homepage Takeover: your ad on the Spotify homepage for 24 hours
Sponsored Playlist: a customized playlist that is sponsored by your brand, including a clickable display ad
Leaderboard: a visual ad, shown for 30 seconds when Spotify is in view
Less competition
Advertising on Spotify is not yet on the radar of many businesses. It is only in the past couple of years, when improvements in collecting data on listeners, the introduction of self-serve advertising capabilities, and hugely expanding the podcast repertoire have made advertising on the platform more attractive to smaller businesses as well as the large ones.
The really big news for advertisers was the introduction in 2021 of the Spotify Audience Network (SPAN). SPAN which brings together all of Spotify's advertising capabilities into a single portal to make advertising in a variety of advertising slots very easy. Spotify expects advertising on podcasts in particular to explode over the coming few years.
Take advantage of the benefits of Spotify advertising
If you think advertising on Spotify might suit your business, now is your chance to get in on the act while the market is still not too saturated.
If you need help with this or any other type of digital advertising, contact Stikky Media. We're here to help.