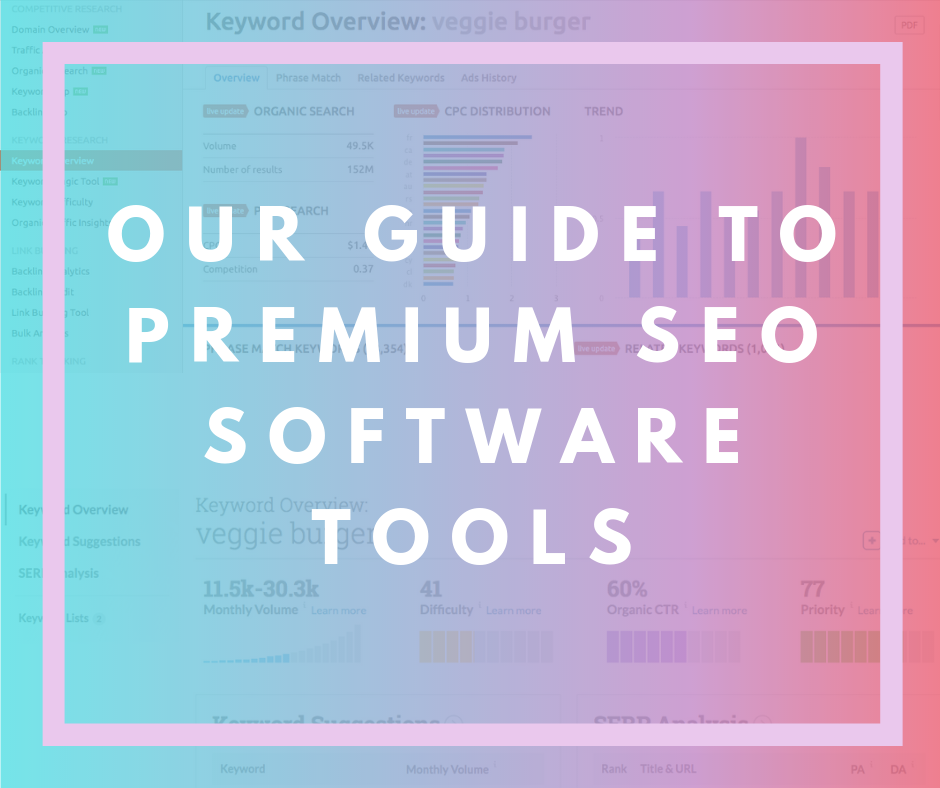 Are you considering a subscription to a premium SEO software platform? Comparing Moz vs SEMRush?
In this blog post, we provide an overview of SEO strategy and review the tools Moz Pro and SEMrush Pro can offer to deliver it.
Search Engine Optimization (SEO) is a set of strategies that can help qualified customers find your website… by helping their search engines find you first. Search engines retrieve information on behalf of people, but their abilities and their limitations are different. SEO can help you understand and respond to the particular ways that search engines perceive your website, as they crawl your pages, extract important pieces of the code, and add them to a massive index for future reference.  
SEO strategy has been demonstrated to significantly improve ranking in search engine results pages (SERPs). Top positions on SERPs will deliver more traffic to your website and lend prestige to your business. SEO is available to improve your website's ranking, so why not take full advantage?
If you are interested in exploring the benefits of SEO, software platforms are valuable tools you can use to build and execute your strategy. If you are already using SEO software, what have you tried so far? Have you used free analytics tools and are wondering what else is out there? Are you considering a subscription to a premium SEO software platform, such as Moz or SEMrush?
Why subscribe to premium SEO software?
Premium SEO software subscriptions do carry a cost, starting around $99 per month. But premium SEO software is a cut above, performing at a higher level than the free options available on the market. This class of SEO software is distinguished by advanced features, continuous improvements and regular updates. These advantages can be critical for building a quality website that is easy to find and for adapting quickly to reported daily updates to Google's ubiquitous search algorithm.
In order to choose the SEO software that is best for you, it is important to be aware of your specific goals. What are you aiming to accomplish? Strategies that worked great for one website, even in your same niche, may not help you in the same way. Taking inventory of your needs in advance, then researching the software that does the best job of targeting those areas will help you get the best return on your investment.
What is Search Engine Optimization?
How can SEO help search engines find your site? Search engines retrieve indexed information from massive databases, instantly and on demand. They aim to provide results that are first, as relevant as possible to their users' search terms, and then, ranked in order of popularity. As simple as it sounds, search engines consider hundreds of discrete factors to evaluate your website for its relevance and popularity, and to avoid manipulation by bad actors who push unsatisfying websites higher in the search results.
Certain elements of your website's design are invisible to the average user's eyes but matter enormously to search engines. One SEO best practice is to anticipate the keywords that future visitors will use to search for your website and to make sure they appear in the places where the search engine is looking. For example, you'll want to focus on titles, headings, URLs and meta-data. Structuring your website in a clear, logical way is critical to help search engines navigate your site in its entirety and index it with accuracy (ie, crawl it). The number of trusted, quality websites that link to yours is another critical factor that increases your position on SERPs.
Raising your awareness of proven SEO strategies will help you identify areas to focus your attention. Once you understand your needs, depending on the areas you seek to improve, you can choose the SEO software with the strongest performance in those areas.
In this blog post, I will provide an overview of a few major SEO strategies and explain how they can help qualified customers find your website. I will compare two major SEO software platforms, Moz Pro and SEMrush Pro and identify the tools they provide to execute each strategy. Next, I will recommend the platform that can offer you an advantage in each area of focus.
Where to begin? Test their Browser extensions
Moz offers the Moz bar extension, which you can add on to chrome. SEMrush offers SEOquake, which is integrated into their powerful site audit tool. As you browse the web, these extensions will generate analytics for the sites you visit and overlay them on top of the pages you view.
If your major experience with the internet is as a user, SEO browser extensions like Moz bar and SEOquake are for perfect you. These tools have two major uses. You can cruise websites in the same way you normally do but now with analytics displayed right alongside the page on the SEO bar. You can think about user experience in tandem with SEO factors as you go Next, with SERP overlay, you can try out searching your keywords and compare all of the top ranking pages at a glance. All of the parameters that produced results will be visible and easy to compare. You can also view a keyword difficulty score for your search and link to a keyword report.
SEO browser extension tools are a great entry point into SEO, ideal for the armchair critic, looking to go pro.
Moz tool: Moz bar
for chrome
Best features:
Moz's Domain authority metric. The domain authority metric is

Moz's secret sauce. DA compiles numerous metrics into a single score, which you can use to compare your site's chance of ranking on SERPs to your competition's.

By compiling numerous factors into a single score, domain authority makes it easy to compare many, many websites without burning out on details, which is important while you are learning SEO.

Moz bar allows you to create regional search profiles,

to see how results will look when searching from different regions.
SEMrush tool: SEOquake
for
chrome, mozilla and opera.
Best features:
Depth and details: SEOquake's bar takes up the same space in the browser as Moz bar but

includes much more detailed metrics than Moz's PA and DA, including social media links.

Customizable:

Choose everything from the bar's position in the browser window, to which specific metrics you want to display.
Advantage?
SEOquake: When it comes to information, sometimes more is more. SEOquake's bar takes the same space in the browser window as Moz bar but squeezes way more pieces of information into the bar. The additional information is well-organized and easy to absorb. Plus SEOquake can be customized to display only the important information that you want to see, in the way that you want to see it.
Once you have jumped into the pool and are exploring with an SEO browser extension, you are ready to deep-dive into the major areas of strategy that really give SEO it's might.
SEO Strategy 1:
Optimize keywords
To influence
relevance
Web pages are indexed by keywords.

Visitors enter keywords into search engines. They are served a ranked list of websites with the best match .

Identify the keywords that are relevant to your business and to your customers.

Use those keywords strategically in your website design so that search engines can find you and rank your page higher in search results.

Build useful, descriptive keywords into the design of your website, including titles, text, URLs and meta-data.
How it's done – a. Research and evaluate keywords:
Benefit from smart suggestions for new keywords to explore.

Analyze the SEO potential of new keywords at glance.

Identify the broader keywords that are used the most often.

Zero in on more specific keywords that carry less competition.
How can I use this?
What words would your customer type into a search engine to find your business?

Which search words would be typed by a customer who is only browsing… and which would be typed by a customer who is ready to buy?

How costly would it be to compete for a high ranking for a popular search term? Would it be worth it?

Focus your SEO strategy on the keywords with the potential to add the most value.
Who has the advantage, Moz or SEMrush?
Moz tool: Keyword explorer
The priority score feature aggregates metrics and makes streamlined recommendations for keywords to target, considering volume, click through rate, and difficulty.
SEMrush tool: Keyword research tools
SEMrush's keyword research explores both organic SEO and paid opportunities.

The keyword magic tool generates suggestions, whereas the keyword difficulty tool estimates how competitive it is to rank for keywords.

The keyword gap tool allows you to compare keyword ranking for up to 5 domains. This allows you to find gaps and identify opportunities to rank. This tool can be used to identify paid search words you are already ranking for organically and re-calibrate your campaign.
Is Moz or SEMRush Better for Keyword Research?Advantage?
SEMrush: SEMrush offers the same features as Moz but integrates paid advertising and competitor research into its analysis. Simply put, considering all angles together will result in a better, more effective strategy.
How it's done – b. Improve on-the-page factors:
See your website (or your competitor's) the way that a search engine sees it.

Learn which parts of your website are possible to index by a search engine and which parts are currently hidden.

Fix problems so that your website can be indexed thoroughly.

Evaluate the effectiveness of your site's current use of keywords on the page.

Find new opportunities to build keywords into the design of your website.
How can I use this?
Make sure that search engines are able to find your keywords.

Check that keywords are used honestly and appropriately (or is your website so spammy it will be penalized by Google)?

Improve the design of your website and rank higher on SERPs.

Discover new keyword opportunities.

Benefit from suggestions to optimize your use of keywords.
If your focus is improving on the page factors: Moz or SEMrush?
Moz tools: Site crawl and On-page grader
Site crawl creates a prioritized list of issues to fix, grouped by category.
On-page grader analyses 27 on-the-page factors to score your page out of 100. Based on the results, provides prioritized suggestions for improvement

Recommendations made will include links to Moz articles to explain the context behind the suggestion.
SEMrush tools: Site audit and On-page SEO checker
Site audit also generates a prioritized list of issues to fix, classified as errors (high priority), warnings and notices (low priority).

Includes concise explanations on why an issue matters and how to fix it.

Issues can be tasked out via Trello with a single click.

On-page SEO checker presents actionable recommendations ("ideas"), based on research data. Includes a comparison analysis of top ten performers on SERPs.
Advantage?
SEMrush: SEMrush takes a project management approach to presenting analytics. It does more than inform the user about problem areas, it greets the user with prioritized action items and explains why they matter. This approach is inviting and motivating and makes quality SEO attainable in a short time frame.
For example, SEMrush's on-page SEO checker prompts the user with "ideas" for how improve websites. If you are new to SEO and you aren't sure how to start improving your page, it feels exciting to open up the SEMrush dashboard and find hundreds of new ideas waiting for you, already organized into a to do list. Reviewing these ideas in detail, they range from very specific and actionable ("use keywords in <title> tag") to… perhaps a little too vague ("focus on creating more informative content") ? That said, as a busy person, I would never underestimate how valuable this tool could be. When you are trying to get something done, writing down a list can be half the battle.
Relative to Moz, I found SEMrush's site audit results easier to navigate, even though more detailed information is presented. SEMrush's compare crawls feature is satisfying to use to track your site's improvements.
SEO Strategy 2:
Build links
To influence popularity.
When websites link to your page, they introduce qualified individual visitors. Even more crucially, backlinks have the important benefit of improving your search engine rank.

Links to your website from trusted,

high quality pages will help build the authority of your page, which improves your position on search engine results pages (SERPs).
How it's done – a. Backlink analysis:
View an inventory of all current links to your website.

Find out which links that are driving the most traffic to your site.

Evaluate the level of authority that your linked websites hold with search

engines.

Locate toxic links that undermine the authority of your website.
Choose to remove toxic links altogether or to disavow potentially toxic links by contacting Google to ask the algorithm to ignore it.
How can I use this?
How can I make the most of existing relationships between my website and

others?

Find out which of your links are bringing the most value right now. Use them

as models to build new connections.

Track mentions of your brand and your keywords across the web. Capitalize on these opportunities to gain new links.
Analyze the backlinks of top ranking competitor's sites and use them to find new opportunities.
Remove or disavow the toxic links that undermine your authority with search engines and reduce your rank on SERPs.
If your focus is backlink analysis: Moz or SEMrush?
Moz tool: Link explorer
Provides an inventory of links and charts losses and gains.
Rates links using Moz's domain authority metric. DA is a search engine ranking score developed by Moz to compile multiple SEO factors into a single number. Link explorer will find your links with the best (and worst) DA scores to optimize their value.
For competitor research, use the Compare Link Profiles tool for up to 5 sites at a time.
Link intersect will identify websites that are linking to your competitor's but not to yours.
SEMrush tool: Backlink audit tool
Catalogues a list of your linked sites.
Flags toxic and potentially toxic links for review.
For toxic links, provides the owner's contact info, so you can request removal.
Potentially toxic links are compiled into a batched list to send to Google to disavow.
Use SEMrush's Backlinks Audit tool to study your links, then use the Backlinks Analytics tool to study your competitor's.
Advantage?
Use both. Moz and SEMrush each use their own indexes to identify backlinks. For this reason, their reports often provide very different results for the same site. Many SEO experts recommend using more than one source of information to thoroughly audit your backlinks.
How it's done – b. Build links:
Search engines take links to your website as votes of confidence. Backlinks signal to search engines that your site is considered a good resource.
Increasing the volume and quality of sites that link to yours will increase your rank on SERPs and drive more traffic to your site.

SEO software can be used to identify prospects for new, high quality links and to build outreach campaigns.
How can I use this?
Improve your rank on SERPs by building up the number and quality of your backlinks.

Find and target mentions of your business that do

not currently link to your website.

Find websites that are linking to your competitor's websites, but not to yours.

Reach out to prospective new links… but when you do, be sure to focus your pitch on the value your link can bring to that website's readers.
If your focus is building links: Moz or SEMrush?
Moz tool: Fresh web explorer
Track mentions of your brand across the web (or track any other search term). Maintain your awareness of talk online related to your niche.
Set up alerts for new mentions.
Unlinked Mentions tool specifically targets mentions of your brand that aren't currently hyperlinked.
SEMrush tool: Link building tool
The Prospects Report generates prospective links for you to review and campaign for, based on your target keywords and your competitors.
Prospective links can be reviewed for quality and impact. SEMrush lets you know the source of the recommendation so you can target the sites that are most relevant to your audience.
Run a link building campaign right within SEMrush using the In Progress Report. Campaigns are customizable and include multiple outreach strategies running.
The Monitor Report will track your progress, as your build up your backlinks.
Advantage?
SEMrush again offers the advantage because it doesn't just provide information, but makes information actionable. SEMrush guides you step by step through the action required to use to achieve the maximum benefit from your backlink research. Not only will you gain prospects for valuable new links but you can use SEMrush to manage your campaign to increase links and improve your position on SERPs.
SO…. WHICH ONE SHOULD I BUY?
Moz or SEMrush? Let's compare.
Moz's greatest strength is educational tools.
Moz has been a leader in the field of SEO, since the early days of the Web. Transparency in SEO is important to Moz, which shows in the quality of their free educational tools, for example the highly recommended Beginner's Guide to SEO. Spending time with Moz's SEO guides, I felt drawn into SEO as field of research, almost a science, with controlled experiments and carefully recorded results. Moz's friendly design and detailed blog posts, with author bios and photos, made me feel like I was joining a community of SEOs, which I loved.
It is worth noting that quality educational tools do matter to the bottom line. If you are teaching yourself to do the SEO for your website, you want to use reliable, vetted sources of information to get it right. If you work for a marketing agency, your ability to understand SEO profoundly and to explain its value to others will make a big difference to your ability to attract and retain clients.
Important to note: while it is a more specialized platform, Moz's tools are not actually more advanced. Moz's dashboards are occasionally light on details and can feel oriented toward the beginner level. Moz's signature domain authority metric serves to amalgamate several factors into a single number. Advanced SEOs may prefer to see more detailed information at a glance, for example by using SEOquake instead of Moz bar, when browsing the web.
SEMrush's greatest strength is a project management approach… And an amazing dashboard.
SEMRush excels by taking a project management approach to presenting analytics. It prompts the user with action items right upfront. The ability to capture a full inventory of every possible way to improve a website's rank makes it easy to create a prioritized list and task it out. For any organization with multiple, competing priorities this level of ease will mean the difference between executing an SEO strategy today and putting it off indefinitely.
SEMrush's dashboard is one of its greatest strengths. The design makes it easy to find what you need fast, which is indispensable for an SEO agency managing multiple websites.The first page packs in a remarkable amount of information at a glance. It allows you to see how a site is performing across many areas of SEO (on-site and backlinks) plus paid advertising, plus social media and more. Best of all, this information is presented to you in context of where your site sits relative to your competition. The design resembles stock market listings with gains and losses and I can see how this dashboard could become addictive, as you refresh for updates.
In my experience, SEMrush's tools were overall quicker to learn, more intuitive and provided more detailed information. As you navigate the platform, you will find well-placed explainers on why this data point matters and what are the next steps to act on it. SEMrush will be a better choice for users who want to get in, get out, get the picture, get it done. This may describe you, maybe because you already have a clear understanding how SEO strategy works, or maybe because you have other urgent things in your portfolio that need your attention. In either case, SEMrush can be a good tool to pound out a killer SEO strategy, then move on with your day.
SEMrush: one digital marketing platform to rule them all?
Moz's speciality is organic search results and the mechanics of how search engines deliver them. The other major threads in digital marketing, such as paid advertising, are considered by Moz to be separate fields and are not covered in their platform. SEMrush, by contrast, aims to be an all-in-one digital marketing platform. This means that organic SEO techniques are integrated into a broader marketing strategy, alongside PPC and other paid advertising strategies. Competitor analysis is an important arena of marketing strategy that features prominently across the SEMrush platform, much more so than Moz. For many users, advanced competitor analysis tools and visualizations are what sets SEMrush ahead of the pack.
In this post, I have only written about SEMrush's SEO toolkit. Keep in mind, for the same price as a Moz Pro subscription, SEMrush offers SEO tools that are arguably better, plus 4 other toolkits. In addition to the SEO toolkit, SEMrush offers an advertising toolkit, a social media toolkit, a content marketing toolkit and a competitive research toolkit. For this reason, in the world of digital marketing, SEMrush has the potential to be the one software platform to rule them all.
Moz, by comparison has picked a lane: mastering organic search and teaching it to the world. Yet, for our money, SEMrush still wins the digital marketing software race by a mile. Despite their specialization in SEO, Moz's tools are often basic and stop short of what is required for deep analysis. Moz would work best for a person who is an SEO purist… but also someone who wants to be presented with fewer details, rather than more. This perhaps works for some, but not for many others.
Conclusion – Our Verdict on Moz vs SEMRush
At the end of the day, search engine algorithms are looking for websites with clear, high-quality content that satisfies users and leads them to engage. There is no substitute for providing content that adds value to your page's visitors. However, awareness of SEO strategy will make sure that lower quality sites don't bury your site on search engine results pages. By placing the evidence of your website's relevance and popularity in the precise places that search engines are looking, you can make it easy for algorithms to find you. Higher positions on search engine results pages get clicks, which lead to higher sales.
Premium SEO software platforms, such as Moz and SEMrush, are valuable tools to boost your position on search engine results pages. Using premium SEO software will enable you to enjoy the benefits of increased traffic to your site. In a complex and ever-evolving field like SEO, quality software tools are indispensable to make sure you've considered all angles and integrated new innovations.
Before investing, being aware of the specific areas you aim to improve will help you to choose a software subscription and use it effectively. My hope is that this blog post has provided you with an opportunity to think through and articulate your goals, then explore the ways that SEO software tools might meet them. If you still aren't clear on what are your website's specific needs, consider bringing the Stikky Media team in for a site audit to get you started.
Both Moz and SEMrush offer excellent, well-researched SEO tools that are certain to improve your ranking. I have strongly favoured SEMrush in this blog post, but the truth is, you can't really choose the wrong one. When it comes to SEO, the only wrong choice is inaction. Whether you end up deciding that Moz Pro or SEMrush Pro is the best subscription for you, you can be confident that you have selected a elite-level of SEO software and you will see the results where it counts: your bottom line.
Other SEO Tools on the Market
Of course SEMRush and Moz are certainly heavyweights but they aren't the only options out there. SE Ranking is a great all-in-one SEO tool for growing companies. In fact, they actually provide even more pages per month than SEMRush on the Guru plan. If neither heavy weight suits your needs give SE Ranking's free trial a chance.