Over one million businesses use Shopify as their preferred e-commerce platform. One reason shop owners use this tremendous Canadian company is likely in part because it has automatically built-in SEO features. Some of these include auto-generated canonical tags, title tags, and sitemap, as well as embedded instructions for search engine crawlers.
These handy features do help Shopify businesses perform better on search engines, including Google. However, they are not effective enough to earn a Shopify website a highly sought spot in a SERP. For that, Shopify e-commerce owners must incorporate other highly effective SEO strategies.
More specifically, businesses that want their Shopify site to rank well should focus SEO efforts on ways that deliver exceptional user experiences to their customers. Let's take a look at some ways Shopify users can enhance their website's user experience.
Shopify SEO Tip 1: Enable Ease of Access to Your Store
Before shoppers arrive at any location, retailers must pave the way for their customers to access the store easily. For example, in a brick and mortar store, this is often done by setting up a shop in a desirable location with good parking and dining options. The intention behind those strategic decisions is to make the store is as easy as possible for consumers to access, thereby increasing the likelihood people will come and visit.
In eCommerce applications, granting shoppers easy access to an online store is even more crucial than with a physical storefront. This is because in the digital marketplace, location is sometimes irrelevant, and competition levels are sky-high.
When making an online store easy to access, there are two key factors to consider.
1.Website Speed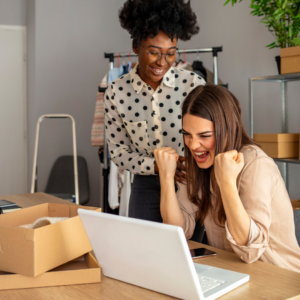 Websites and their pages need to be fast. Product pages that can load in under two seconds experience the highest ecommerce conversion rates. However, websites pages taking more than 5 seconds to load result in conversion rates dropping by 2.11% with every additional second required for that page to load.
That's the expected behaviour of shoppers who hang around long enough for the page to load fully. It doesn't include the scores of visitors who bounce if a page doesn't load in under three seconds.
2.Mobile Friendly
The number of people who shop from their mobile devices is staggering. In 2019, 79% of traffic to Shopify stores came from mobile. Clearly, if a Shopify store is not optimized for mobile devices, they are missing out. Several new ecommerce sites opt for a mobile-first approach when designing their website instead of the more traditional desktop-friendly process.
When choosing if your store's setup should have a mobile-first or mobile responsive design, consult the help of your website developer. Either way will allow visitors to easily find and access your store from a phone, tablet, or other mobile devices, so choose the option that works best for your Shopify store.
Shopify SEO Tip 2: Make Site Navigation Easy
Once visitors enter your Shopify site, be sure to it's easy for them to explore what's available. When a store is easy to navigate, shoppers tend to stay longer, explore more, and feel pleased with their experience. The more pages and hoops you ask visitors to jump through before accessing what they came for, the higher the probability that they'll leave before completing a purchase.
Essentially, easier-to-navigate websites increase a customer's user experience and, therefore, the store's conversion rates. Below are two ways to design your Shopify store so visitors can better enjoy their stay.
Clear Product Navigation
It should be easy to find any given product in your online Shopify store. To do this, ensure users can quickly and easily access all available product and service categories regardless of what page they're on.
This can be done with a well-organized header navigation bar. The main navigation bar should have clearly defined titles that visitors can easily access and move around the site. Other ways to optimize product navigation include:
Product search bar
Shop breadcrumbs
Product category pages and filters
Create Collections
Organizing products into relevant collections will help shoppers find what they are looking for while viewing related products and add-ons from other categories easier. This is also an easy way to market multiple products from different site areas in one central place.
For example, let's say a Shopify jewelry store has its products categorized by types of jewelry, such as rings, earrings, necklaces, and more. They've recently introduced a new line of sapphire jewelry with pieces in each established product category. They want to feature the new items in one place and encourage customers to purchase multiple sapphire pieces. To do so, they can create a Shopify collection that includes all available sapphire jewelry where visitors can see all items in the collection in one place.
Collections make shopping easier for your clients and provide new opportunities that will boost your SEO efforts. Examples of this include:
Maximizing internal links from collection pages.
Exploit targeted keywords.
Shopify SEO Tip 3: Produce Valuable Content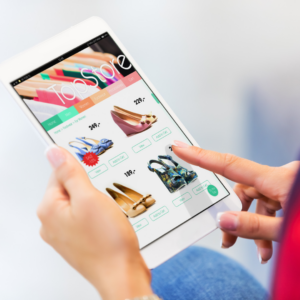 Quality content has long been a source of SEO power for ecommerce websites. Content that increases the length of a visitor's stay, engages them to become buyers and, is a trusted source of information cannot be underestimated or overvalued. Essentially, valuable content should be a keystone of every ecommerce website.
However, when your ecommerce site is meant to feature products and not serve as an educational resource, how can you present content that converts visitors and search engines?

Optimize Product Descriptions
Pay attention to your store's product descriptions and use each product as an opportunity to add valuable content. To do this, be sure every product page has a detailed description of the item in addition to at least one high-resolution image. Be mindful of accidentally generating duplicate content for listings that are similar in nature and description. Take the time to fully describe the product being sold as well as what benefits it offers purchasers.
For more ways to optimize product listings, read this article.
Have a Blog
Blog's are an essential for Shopify SEO tool because a well-curated blog can do the following:
Be a source of new content regularly. If product pages aren't changing and evolving, use a blog to satiate Google's desire for fresh content.
Increase internal and outbound links. Internal and outbound links are necessary as part of a strong SEO strategy. Blogs provide new opportunities to create more links.
Increases brand awareness and trust. Google and other search engines value quality content because people want access to information that is useful and relevant to their search. A website with informative blogs increases a visitor's trust and the website's Google ranking.
Helps compensate for third-party cookie ban in digital advertising.
Develop Successful Shopify SEO Efforts with Stikky Media
Stikky Media is a leading digital marketing and web development agency helping businesses thrive with our expert team of online marketing professionals, web developers, and SEO specialists. If you're ready to boost your Shopify store's sales or, have questions about developing a great SEO strategy, contact our team.