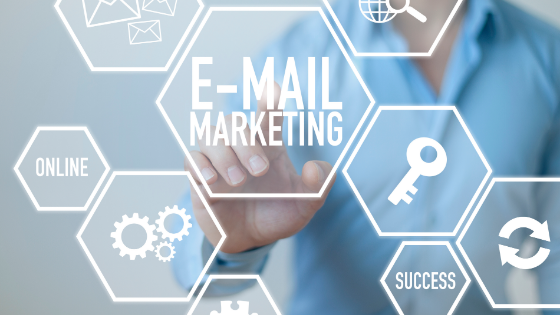 Email marketing is essential for any business and is defined as the practice of sending marketing messages to prospective and existing customers. This is done via email and can be a way of helping to educate, sell, or build loyalty for a business. You, as the sender, have full control over what you distribute to your subscribers when they sign up to receive your emails. It's a must-have for any e-commerce business and is the key to success when it comes to achieving more sales and loyal customers. Don't believe us? Well, perhaps it's worth mentioning that email marketing can account for 23% of sales for a business.
As well as it being a financial money-maker, it's great for building long-term customer relationships and is one of the most efficient ways of reaching your customers directly through a personal channel. If you want to learn more about email marketing for your e-commerce store, then continue reading.
Getting Started
To get started, you need to pick the right email service provider (ESP). This will be the place to monitor your inbox, draft emails, and deal with any spam that you might have sent. Email has come a long way, and so there are multiple providers to pick from. Some of the most popular email providers are Gmail, Outlook, and Yahoo. It's worth knowing the pros and cons of each one to ensure you've selected the right one. You want to ensure that the ESP is secure and is going to give you everything you need in order to send out your email marketing campaigns successfully.
Then you need to choose your ecommerce email marketing platform that you are going to use. There are many out there, but it's good to have an idea of some that are available before you pluck one out to use.
Klaviyo is great for those who want to go all out when it comes to their email marketing. It allows a free service for up to 250 subscribers, and 500 email sends. Their paid plans can start from just $25 a month and can allow up to 300 subscribers and unlimited sends at that starting price. It's one of the few email marketing tools that are designed specifically with eCommerce in mind, so it's features are tailored specifically to this type of business. That makes it a great choice when it comes to your email marketing.
This tool is a great eCommerce marketing tool for those who don't want to spend so much time when it comes to creating automated email campaigns. Their free plan offers up to 15,000 emails per month or 2,000 per day. The paid pricing is split into three levels; standard, pro and enterprise. Each one comes with different levels of subscriber amounts, and email sends. It's a little pricier than others, but it's good if you're looking for good automation and workflows that make it easier to create those email campaigns.
Outfunnel is an email marketing software that is synced directly with Pipedrive and Mailchimp, allowing you to either send automated drips or single email campaigns. An ability to immediately record email opens, clicks, and other email activity helps you stay on top of your leads. You'll be notified when they visit your site and see what they're interested in, allowing you to automatically capture all the sources. Plans start at $19 per month with a 14-day free trial. This is a great software to consider if you're already using Pipedrive and Mailchimp and want to take advantage of all the available integrations.
CM Commerce is great for those who are looking to build more engagement and loyalty in their subscribers. The pricing for this tool differs from other services in that it charges based on the number of customers you have. Plans start at $20 and can run as high as $850, again depending on the number of customers you have. They do offer a 30-day trial though that includes all features. This tool is great for helping you set up segmentation for your email campaign that will make them more engaging and tailored to each customer you have.
Rare.io allows it's merchants to help achieve more sales from their email list. It has three paid options that are referred to as growth, pro and exec. The free option will cap at 249 contacts but has a wide range of templates to help with your email campaigns, as well as unlimited automations. It works well with eCommerce platforms and can help personalize emails to get the most profit out of a customer on a continuing basis.
Work on Your Email List
The next thing you want to do is work on your email list in order to collect new customers and retain existing customers who have already shopped with you and used your services. It's important to start collecting email addresses from day one, so if you aren't already doing so, make today the day you start. There are a number of steps to take to help with building your email list from scratch.
Set up a pre-launch page – A pre-launch page can be something that you might set up before officially opening up for business on your e-commerce store. It can help give you an idea of how many individuals are interested in your business and can be a good way of creating hype for your products.
Collect emails from sales and customer accounts – For those e-commerce stores that are already up and running, it's worth utilizing the customers you already have by collecting their emails from sales or from customer profiles that have been set up.
Place opt-in forms across your site – It's good to take advantage of every inch of your site to encourage customers to sign up to your email list. So whether it appears in the form of a pop-up or it's down the side banner of your website, put those sign-up forms anywhere you can.
Accelerate signups with lead magnets – For someone to hand over their email, they will often need an incentive. These are referred to as lead magnets and can be great for accelerating signups. Why not offer an early bird discount or run a contest?
Ask for emails in person – There's nothing like good old-fashioned face to face interaction. If you're getting the opportunity to meet in person, ask for their email. Place a call to action in their packages that are delivered in order to entice them further to sign up if they haven't already.
Stay Legal
As with anything you do in business, you want to make sure that you're doing it by the book when it comes to a legal standpoint. Making sure your subscribers can opt-in and opt-out freely is essential, and that's protected by certain web laws that are in place. If you need a reminder of these or you're unaware of what these are, please see below for more information.
CAN-SPAM – Controlling the Assault of Non-Solicited Pornography & Marketing Act. This sets the rules regarding commercial emails.
GDPR – General Data Protection Regulation. This protects an individual's personal within the EU.
CASL – Canadian Anti-Spam Legislation. Protects Canadians and also makes sure that businesses continue to compete in the marketplace globally.
Types of Email Marketing Campaigns
There are different types of email marketing campaigns that you should know about so that you can distinguish what's needed.
Transactional – These are expected by your customers. Think your order confirmations and receipts. This is an email that can often have a very high open rate, which makes it good to take advantage of when trying to push a certain call to action or sell additional products. Below is an example of an effective transactional email campaign.
Promotional – These are emails that are pushing a new product launch or perhaps an exclusive deal that you want to give to specific segments of your email list. It could be a time-sensitive deal, one that's for subscribers only, or a seasonal one. Here's an example below.
Lifecycle – Lifecycle emails are specific to that subscriber. It could be an email to remind them of a product they've left in their basket or a welcome email. Here's an example of an effective reminder email.
Track Your Email Marketing Performance
Tracking email performance is necessary so that you can make the relevant tweaks and changes to help with future email marketing campaigns. There are different kinds of metrics that can help to track said performance and these are:
Open/Click-Through Rates – This shows you how many subscribers have opened your email and how many have clicked through to any link you might have included in the content itself.
Email Deliverability – This is all about where the email has been delivered to and whether that's in the mailbox or elsewhere, like the spam folder for example. Or if the email was undeliverable.
List Size/Growth – Looking at your list size and whether it's grown or not can be helpful in seeing how effective your content is with retaining your current subscribers.
A/B Test – This can be helpful in order to test your messages to smaller segments of subscribers first to make sure the message, design or CTA is effective.
Revenue – Being able to see how much money you have coming through can certainly be useful in knowing how your email campaigns are performing.
Email Segmentation
Email segmentation is important when it comes to your email marketing because it can be beneficial to tailor it to specific groups within your subscriber list. You could segment subscribers based on their age, where they come from, their interests and past purchases. This can be helpful in improving email deliverability. The more tailored you can make it for the subscriber, the better.
You want your subscribers to engage with the emails you send to them, and segmenting can ensure you are always sending out the best content for each group.
In Summary
Email marketing is a key player when it comes to providing success for your eCommerce, so make sure to take full advantage of it when it comes to your business. Educate yourself on sending emails that meet legal requirements while utilizing the right email marketing tools for the best-targeted email campaigns.
If all of this sounds like too much, you may want to consider working with professionals. Stikky Media can help you with your email marketing and newsletter conversion rates, as well as helping you optimize your other content to increase overall sales. Reach out today to get started.