Remember when event notifications used to be fun? When they were real invites to real events you actually wanted to attend? With people you liked?
Not any more. If you're like me, your inbox is flooded with invites to bottle drives in faraway lands, "concerts" at skeezy coffee shops and obnoxious theme parties at a friend-of-a-friend-of-a-friend's house. And to make matters even worse, if you don't give a definite answer, you're bombarded with notifications every time someone changes a detail or writes on the wall. Good times.
Thankfully, there are several ways to end this nonsense once and for all.
Here's what you can do:
Disable all event notifications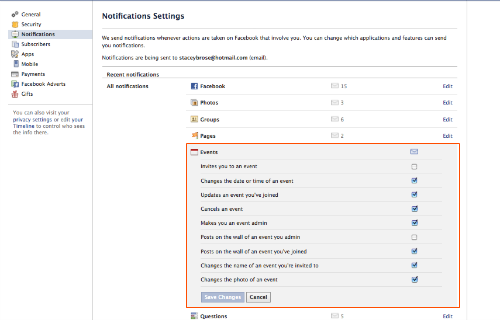 If you never, ever want to be notified of an event again, this option is for you.
In the upper right corner of your profile, click the dropdown arrow, then Account Settings > Notifications > Events. Pick and choose which notifications you'd like to receive, or do a mass unsubscribe by clicking the cute little envelope.
Block event invites from certain friends
Have a friend who thinks it's okay to invite you to every charity event, meme day, car wash, cat birthday party and BBQ even if you don't live their time zone? Block 'em.
In the upper right corner of your profile, click the dropdown arrow, then Privacy Settings > Blocked People and Apps > Manage Blocking. Next to Block Event Invitations, add the name of the offending friend(s).

Turn off notifications for specific events
If you've already given a solid response—Join, Maybe, Decline—and don't care to receive any updates, you can turn off notifications for a specific event.
Here's the trick: You'll automatically stop receiving notifications if you click Decline, but if you clicked Join or Maybe a little gear wheel will appear in the upper right corner of the event's page. Click on the gear, then click Turn Off Notifications. Easy-peasy.

Or…my personal favourite:
Quietly leave the event without anyone noticing
Did you know it's possible to leave an event without confirming a thing?
If you want to be sneakysneaky, go to the event page and click the 'X' next your name. Poof! It's like you were never invited.
Warning: Once you click Join, Maybe or Decline, you no longer have the option to back out quietly.
Not satisfied with your Facebook Ads campaign?
Fill out this form and we will send you a FREE Facebook Ads audit straight to your inbox.
Like this post? Like us on Facebook.
An updated version of this post can be found on our sister site, North Studio.