Establishing a relationship with your customers is the cornerstone of any business. It is even more important when it comes to your marketing strategy. If you are concerned about building a strong relationship with your audience and cultivating brand loyalty, then you should know that having an effective content marketing strategy is a must. Marketers worldwide agree that content marketing is one of the most powerful digital marketing techniques. In fact, content marketing generates three times more leads than paid search advertising. It makes sense why 42% of companies have a dedicated content strategist!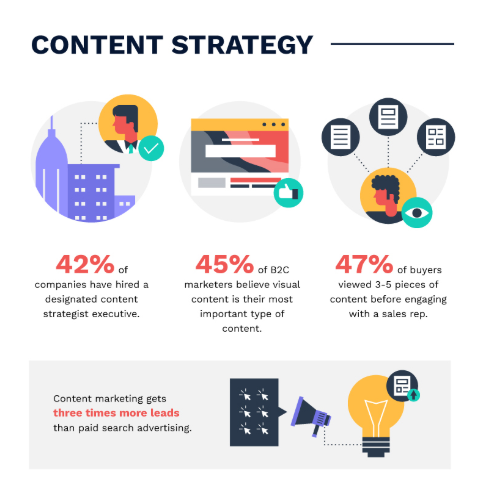 This means your efforts are not only focused around getting new customers, but also in nurturing your relationship with existing ones. Read on for some of the ways content can help you can do that.
Get into the Heart of Your Customers
Before starting on your content marketing strategy, it is important to know what your customers want and need. What problems are they facing? What are their motivations? Starting a conversation with them is one way to get into their hearts. You can ask them for feedback, suggestions, or comments.
Once you get to know and understand your customers, you will be able to tap into their wants and needs more effectively. This knowledge can be used as a guide when you create content for your website, email marketing, or social media channels. It's important too – since 47% of buyers read 3-5 pieces of content before contacting a sales rep, creating content that resonates will get you that much closer to a sale and seeing ROI from the content piece.
Make Your Content Personal
Personalizing your marketing messages can go a long way to reinforce your value as a brand. It can be as simple as using a conversational tone on your blog posts or referring to your customers by their first name. Personalization shows the human side of your business, while allowing you to cultivate a more meaningful connection.
Use Your Content to Build Trust
Quality and engaging content can build trust, encouraging repeat business and turning your customers into brand advocates. The more informative and educational your content is, the more value you can provide for your customers. It must be the kind of content developed around their pain points, helping them solve their problems and overcome their challenges. Doing this can also help establish your brand's credibility and authority.
Interacting with your customers through high-quality content foster a closer relationship that can lead to an increase in customer lifetime value. When you retain your existing customers, there is a great chance that they will do business with you again and even spread the word to their family and friends.
This is a guest blog by Josh Wardini, Co-Founder of Serpwatch. Check out their digital marketing infographic here.