Digital media in 2019 is fun! It's full of images, videos, and other colorful tidbits designed to entice the viewer's eye.
With the exponential growth of online platforms and smartphone technology in recent years, almost everyone is posting pictures to at least one social media channel. One thing that behavior has led to is an increasing amount of people are editing photos and images.
There are several free photo editing software options available online, and quite frankly, many of them are great.
But, how do you know which tool to use? Which one is right for you?
To help simplify your choice when considering which free online photo editor to use (Hello Instagram influencers!), we've rounded up some of our favorites. Here are, in no particular order, Stikky Media's 5 Top Free Online Photo Editors:
BeFunky
BeFunky.com is as visually appealing as it is easy to use. The online editing site is simple, clean, and organized, making it ideal for novice and intermediate users. Navigating through BeFunky's tutorials, features, and tools is a clear process they've made easy to follow.
BeFunky also has graphic design features making it simple to turn images into digital copy masterpieces. Plus, we love the "add your own watermark" ability; a feature ideal when branding digital content.
GIMP
GIMP.org is a powerful and free tool that can easily rival the ability of Photoshop.
According to GIMP's homepage, GIMP.org, "GIMP is a cross-platform image editor available for GNU/Linux, OS X, Windows and more operating systems."
GIMP is not designed for beginners, it's meant for use by industry professionals. The learning curve is steep, but many professionals that use GIMP professionally swear by it. Looking for tutorials for GIMP? Look here.
Bonus: it's free to use and is an open-source technology, meaning, it will always be free.
iPiccy
iPiccy.com made our list of the 5 best free online photo editors because of its ease of use, and it's easy to learn. iPiccy has popular features that make photo editing fun to learn.
Their tips are relevant to novice and intermediate users, making it quick to navigate and get the job done faster. Two of our fave tips from iPiccy.com are the "teeth whitener editor" and "color correction."
InPixio.com
At first glance at InPixio.com's homepage, it may be hard to tell there is a free version of the online photo editor. But there is!
To find access to the free version, scroll down to the bottom footer and look under the heading "Our Software." About half-way through the list, you'll see the words "free photo editor." Go on, click there.
InPixio's free photo editor is a solid platform with essential editing tools like cropping, filters & effects, and multiple customization options.
Fotor
Fotor.com is a great mid-range photo editor that's available to use for free. Easier to use than GIMP, but not as simple as some beginner options, Fotor is a great image editing tool.
Comprehensive enough to meet the demands of many professionals, but without costly fees, Fotor is a great option for freelancers and graphic designers.
If the time comes when Fotor's free tools aren't meeting your needs, consider the option of signing up for FotorPro. There is a cost for a FotorPro subscription, but it may well be worth the small investment.
Use any of the above mentioned free online photo editors and make your social media posts stand out. Plus, once you've mastered the art of photo editing, you might notice you're posts are getting a bit more attention!
For tips on how to publicly share that new attention with your audience, click here.
BONUS: Since there's always new entrants in the photo editing market we've added PicsArt which is well worth a look.
PicsArt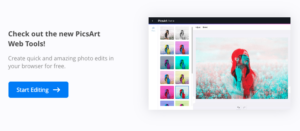 Trusting an unknown name or website to edit your photos online is tough, but not without a solution. PicsArt is already one of the biggest names in photo and video editing, so you know you're in good hands. With years of top level experience, constant updates and new additions, and most importantly accessibility and ease of use, you just can't go wrong with PicsArt's online photo editing tools.
It has everything you could ever want from a free online photo editor. Removing photo backgrounds, top-notch unique filters, copious amounts of stickers for any edit you can think of, and so much more, completely free.
Stikky Media is a digital marketing agency that caters to clients who want their business to thrive on the Web. Our digital marketing experts are committed to helping e-commerce businesses and non-profits succeed. Learn more about our services.